It has been wonderful to hear from so many parents and children, finding out how you have been getting on over the last few weeks. I can honestly say how impressed and amazed I am with how everyone has been coping, managing to juggle working from home with making time for school tasks, at the same time as all the regular trials and tribulations that come with parenting. You are all doing an amazing job! Let's all take one day at a time!
I have been busy not just planning lots of lovely things to keep you busy at home but also doing some learning of my own! I will let you into a secret now… teachers don't actually know everything! This weekend I became a pupil as I started a course to help me prepare for becoming a Mum! My husband and I began learning all about babies and how the grow and develop. We were even given some homework to do, so I know what it feels like Reception class!
Since starting the daily emails I've already been sent some fabulous examples of work you have been doing and wanted to share some from last week with you all. It seems that the 'Make a nature poster' task inspired some brilliant research to take place and I love the use of real examples as you can see in the photos below. Hugo and Hayley choose some beautiful flowers while Sunny did some really careful drawings of her pinecone and branch. Daniel's lavender poster showed how much wonderful writing he's been practising at home and I was so impressed with a certain 'Peter Pan's' sentence you can read in the picture below that he wrote all on his own! Brody also shared his brilliant writing using the 'ai' digraph, what a great sentence! I also wanted to share a picture of a rather creative member of the class' toilet roll models she made as she didn't stop at one! After making 2 chicks and a bunny she decided to write a story about them which I loved reading.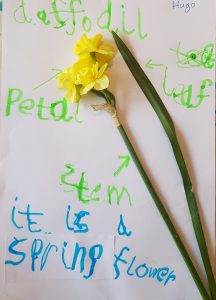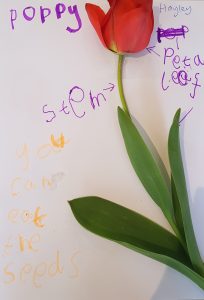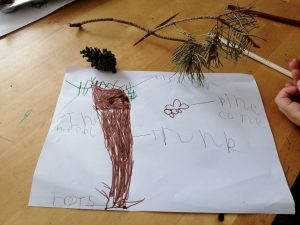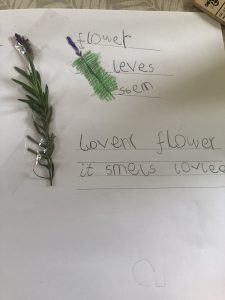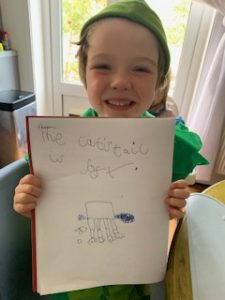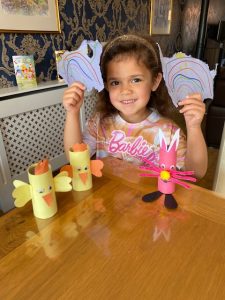 I have to say a huge well done to everyone who is working so hard at home. I know it must feel a little funny doing schoolwork at home but I'm really impressed, and can't wait to see more great examples this week!
Finally, it's time for 'Caterpillar Update'!  I hope everyone was able to view the little video I put on last week of our new wriggly friends. Since they have arrived, they have grown so much! In the first few days they were like tiny babies and did a lot of sleeping. The funny looking brown stuff at the bottom of the pot they are in is actually their food and as they've started to eat more and more they've been getting bigger and bigger so I can now show you a couple more photos so you can see how much they have grown. Can you guess which photo was taken on day 1, day 7 and day 14? Looking back at the clues I gave last week does anyone know what will happen to the caterpillars when they are a bit bigger? I look forward to seeing and hearing how you get on with this week's learning, have a great week and look out for the next blog on Friday.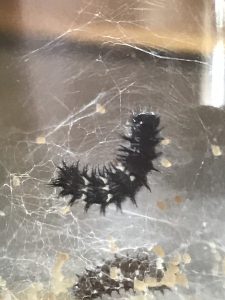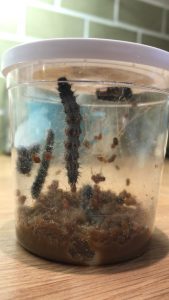 Lots of love from, Mrs. Canniford and the wriggly caterpillars! x