Hello Everyone!
Remember to send solutions to [email protected] by 3pm next Wednesday. 
Simply write the type of maths challenge e.g. First Maths challenge, Junior Maths Challenge or Senior Maths challenge 
in the subject bar. Tell me your class and if you are happy for your work to be published on the blog. 
I look forward to seeing your ideas and solutions. If you can attach your work, that would really help!
Thank you to all my regular contributors and welcome all newcomers!
This week, in honour of the 75th anniversary of VE day and thinking about ways that maths helped to bring an end to the Second World War, we will be acting as mathematical code breakers!
In addition, I would like to celebrate the phenomenal achievements of Alan Turing and The Bletchley Park group. You might like to find out more about this by visiting: https://bletchleypark.org.uk/our-story to see where it all began. Or try some of the code breaking resources on the website at https://bletchleypark.org.uk/learn/resources/ve-day-learning-resources an example of which is at the end of the blog.
So, onto the challenges this week.
First Challenge
Enjoyed that? Want a bit more of a challenge?
Junior Challenge
Come on you can do it!
Want to stretch your code breaking abilities?
Senior Challenge
Step up the next Alan Turing! Good luck – this will take real perseverance and tenacity.   Why not try this with family, grandparents, friends and relatives. OPEN TO ALL.
Message from me  –. — — -.. .-.. ..- -.-. -.-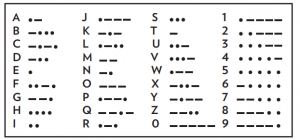 One of the puzzles on the Bletchley Park Website: