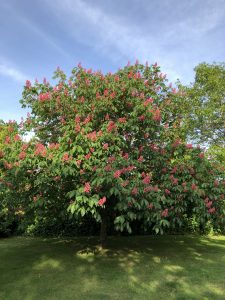 Today has been one of those busy days. It's been full of meetings and business but also of lovely class zooms with bright faced eager children. As I finished the last zoom I took our dogs out into the garden. It's still so warm and the evening light is almost as beautiful as that early in the morning.
Years ago my parents gave me this horse chestnut tree for my birthday. It was tiny and my small children and I watched and waited with great excitement for it to produce a conker. Look at it now, an absolute beauty!
Fortunate to have been blessed with truly fantastic parents, the gap they left when they died recently seemed huge. It's odd how close they feel in this tree. Both immensely practical people who'd lived through the Second World War and the hardships of being small tenant dairy farmers, I hear what I believe their sound advice would be in tough times such as these we are living through.
So, 'best foot forward, one step at a time'  is what I hear as I take in the beauty of this tree.
And that's the attitude that St John's community has adopted over the last term. Parents and children have given their absolute best managing home learning alongside so many other demands, staff have given their all in providing the care and education that they can remotely.
As we continue into Term 6 we have dig deep to find the courage and commitment to implement our Government's drive. I give thanks for the support and love of wonderful parents – my own, those of our pupils and theirs as well.
Well done St John's!