I have strangely missed not writing my twice weekly blogs during the Easter break, but filled my days finding things to do with my family and staying in contact with people by screen. The  road I live on has started a Saturday evening 'Dance on your Doorstep'. We decide on an upbeat song and then one family play it very loudly in their car so that we can all dance along from our windows, doors and driveways. It's been a lovely way to see neighbours and to check that everyone is doing okay. I wonder how you are trying to stay in touch with people and keep smiling – we are having to get very inventive aren't we?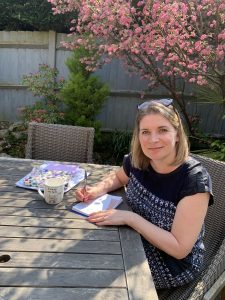 During this lovely weather I have occasionally been able to take my work outside with me, even managing to find a shady spot for my laptop. The other day I decided to write rather than type but my paper kept blowing away! Have you done any of your home learning outside?
I have been  carrying on with my sewing project and decided that Easter themed bunting would be a good idea for last weekend, here are the two I made. Did you do any Easter craft?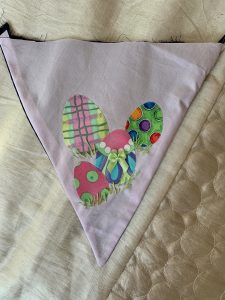 I also made paper bunnies and found some fluffy bunnies to hide on my neighbour's front garden, then I put a note through their letterbox inviting their two children to try and find them… they needed a bit of adult help though as I think I hid them a bit too well!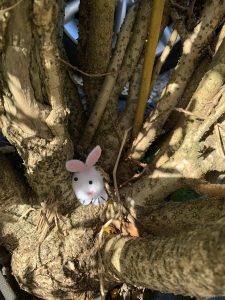 Did you have an Easter hunt too? My teenage children thought they were a bit too old but I still made them a garden hunt; they had to find fluffy chicks not bunnies – you're never too old for a treasure hunt I think! Their grandparents joined in by video call which was a bit unusual… I wonder whether any of your grandparents have joined in with your family fun in an unusual way? Maybe you could call a friend or family member and read them a story, just to brighten their day?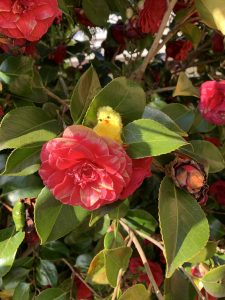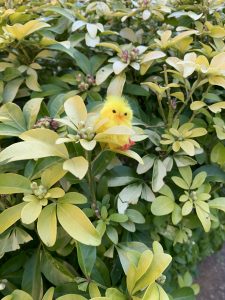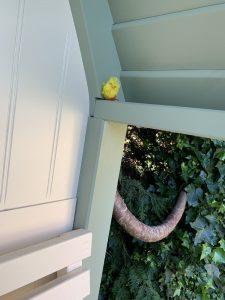 So, now that the Easter Bunny has been and we have hopefully all enjoyed some chocolate, (or maybe eaten all of it!), it is time to carry on with our learning at home. Today we finish off the last two days of week 2. I will be emailing you from now on with things to help you with your learning and so that you can email me back pictures of your favourite achievements.
On the plan for today is to draw things from above, as if you are a bird looking down on things. Can you guess what I have drawn? I have given you some clues to help you …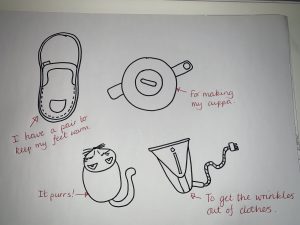 I look forward to seeing some of the interesting, creative and fun things that you have been doing and may even include some of your pictures on my next blog, on Monday!
Love Mrs Temp