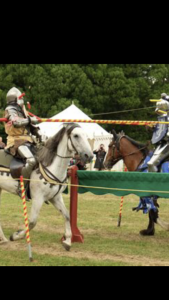 Welcome back everyone, how lovely it was to see all those smiley children arriving at school this morning.
I have to admit that the Year 5 Tudor day jousting competition doesn't look a bit like the picture above but the sounds of joy filling the playground would suggest it's every bit as much fun. Reception have kindly loaned their trikes in the absence of horses and umbrellas are proving to be ideal as jousting lances.
Photographs of the each class' enrichment days will follow next week, here's a reminder of the plans for this first week back at school
Reception, Year 1 and Year 2 Pyjama Story Day
Year 3 Stone Age Day
Year 4 Bridge Building
Year 5 Tudor Day
Year 6 Wolf Brother Forest
Thank you to all the parents and carers who wore masks and continued to follow strict social distancing at drop off this morning.