What an amazing rainbow last Thursday. It came out just as we started clap for carers/NHS and made everyone smile along our road.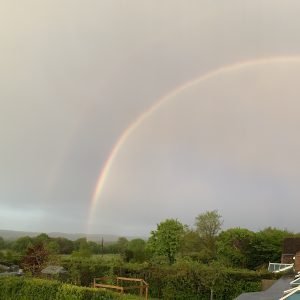 I've received this letter from the Department of Health and Social Care, which concerns the arrangements for children with SEND, their families and people who support them. It sets out some temporary law changes they are making in relation to Education and Health Care Plans and refers to the ways children can be supported during this difficult time and has links to other guidance publications. If you want to know more, please contact me on my email address at [email protected]
We also have an offer for free Clicker software which can be used at home. Clicker is a really useful software package which we use at school to support children who find writing difficult. We have Clicker 7 installed on the computers and on some iPads through the Clicker Apps, so many of your children will be familiar with using it. If you use the following link, you will be asked to fill in a short form and then have free access for a limited period: https://www.cricksoft.com/uk/clicker/clicker-at-home
If there are any other resources you need to help support your child with the daily learning set by the teachers, then please don't hesitate to contact me.