With The London Marathon supposed to have taken place yesterday, many runners were very disappointed after training and preparing so well and worried that their chosen charities would not benefit from the money they would raise too. One family in our road decided to run their own marathon to raise money and ran a relay around our village, ten laps with a total of 26km.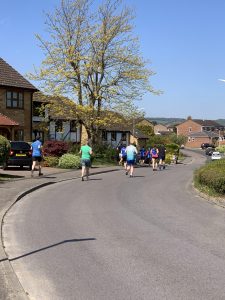 In order to support them, many families sat on their driveways to watch them. For every lap we clapped, cheered and some… including my son and husband ran the last lap with them, at a safe distance of course. It was a lovely way to spend a sunny, Sunday morning and made us realise that we can find ways to stay positive, motivated and doing our bit to support each other during this strange time.
One of our challenges last week was to do something creative with the theme of family. I was delighted to see Seb's salt dough wonders, complete with Digby the dog!  I know that this wasn't a task that was completed in minutes, it was definitely a dough marathon.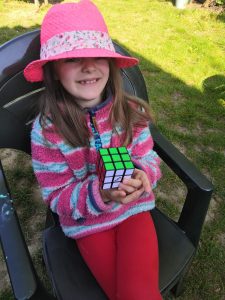 Another skill that had to be mastered over time in this busy household was to become a master of the Rubiks Cube.  I have to admit that I have never been able to acquire this skill and will be asking this expert for help when I see her next!
I wonder what else you have taken time to master while you have been learning at home? Don't forget to check our gallery to see more of your fabulous learning and if you need any help or have achievements that you are proud of, please email me!
Finally if you are running short of space in you exercise book, you can pop along to school between 9.30 and 11.00 today and collect a new one.
Love Mrs Temp x