Hello everyone!  I do hope you are ok and managing this new way of life … it's all a bit strange isn't it?  Although I am surprised to see how quickly it has become the new normal!  I have been ringing around families to see how they are, so don't be too shocked if I call you!  Also, please know you can call me any time.  Here's my number again 07376 216 078
Some parents have been telling me their toddlers are missing Little John's which is normally on every Tuesday afternoon 2-3.15, so maybe you could have your own Little John's sessions this week at home!  If you're feeling brave, you could even try getting something messy out …. any dried foods you have at home, or out of date herbs and spices give hours of fun stirring and mixing together.
My fool proof play dough recipe is as follows:
1 x cup of flour
1/2 a cup of salt
1 x tablespoon of oil (any you have will do, vegetable, sunflower, olive …)
1 x tablespoon of cream of tartar (in the baking section of most Sevenoak's supermarkets
1 x spoonful of food colouring
Stir this all together and then add:
1 x cup of boiling water
Stir together and voila!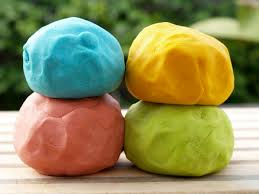 Please don't hesitate to get in touch with me, I'm always delighted to hear from any of you, and any suggestions for parenting issues you'd like me to write about will also be very welcome.  Speak soon love Jane