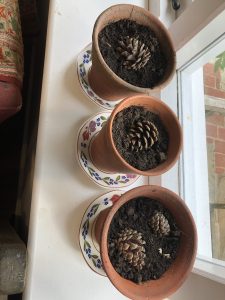 My first cones planted as suggested. Now we wait "some time" to see the shoots appear. I wonder how long that it?!
Today has been spent on many calls and platforms discussing the Government's proposed phased return to school from June 1st. I'm not surprised that this has evoked such mixed responses among our school community. At this point we have to remain patient as we await further guidance and trust that science is informing our leaders' decisions.
Meanwhile today parents, grandparents and carers have been trying to support their children with the home learning as usual. Some weeks and some days are most definitely harder than others – it's really alright to leave school work when that is the case for you and your child. I read this in the teachers' daily emails and they really do mean it.