¡Buenos días a todos!
¿Qué tal? Muy bien / regular/ fatal
My question for you today is ¿Qué tiempo hace hoy? What is the weather like today? This is new to those of you in year 3. We have been lucky with the weather during lockdown and I have really enjoyed spending time outdoors. I hope you have been managing to play outside or do some exercise every day.
Have a look at my photos and choose an activity.
You could make a poster. Draw or print pictures from the internet of different weather symbols and write the weather expressions in Spanish. Tell someone you live with what the weather is like each day for the next week.
2. Write sentences to describe what the weather is like in different months. En enero hace frío. (In January it is cold.) 
3. Or have a look at my last photo and describe what the weather is like in Spain.
En el norte … – In the north …
En el sur … – In the south …
En el centro … – In the centre …
El en este … – In the east …
En el oeste …- In the west …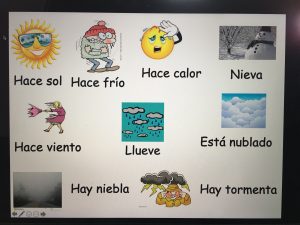 Help with pronunciation:
Hace – pronounced 'athay'
Nieva – pronounced 'ne-eva'
Llueve – pronounced 'u-eh-vay'
Hay – pronounced 'ay' / 'I'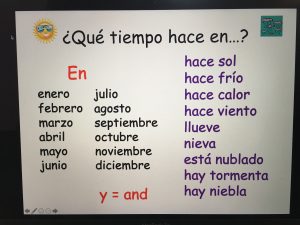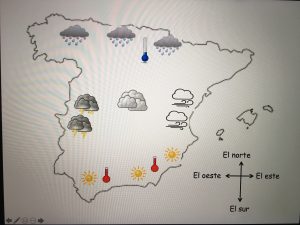 I really enjoyed seeing some of you from year 4 & 6 on Zoom last week. Hope to see you again soon!
Señora Hayes x