¡Buenos días a todos!
¿Qué tal? Muy bien / regular/ fatal
I hope you managed to do something on food last week. Whenever I teach food at St. John's, I always end up with a hungry class! I was delighted to receive a photo from Mrs Casewell from Scarlett in year 4 with her delicious menu. Tonight Scarlett I would like 'espaguetis a la boloñesa' followed by 'un helado por favor!'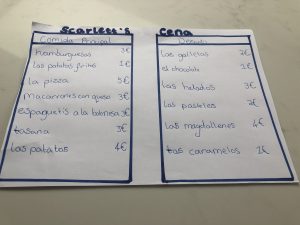 This week I would like you to look at clothes in Spanish. For those of you in year 3 & 4 this will be something new to you.
Have a look at my photos of different clothes and try to say the words out loud.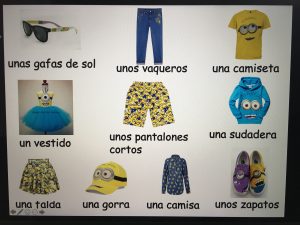 Now choose an activity.
My clothes have a minion theme – you could design items with a different theme. Draw and colour the clothes and label them in Spanish.
2. Why not design a new school uniform using my other two photos? You could have one for 'las chicas' (girls) and one for 'los chicos' (boys).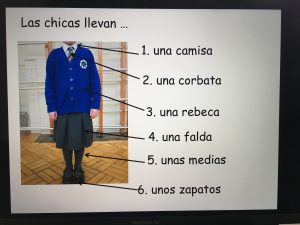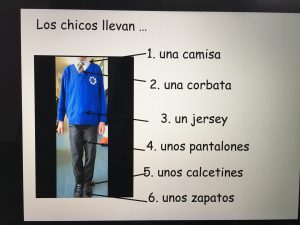 3. Alternatively, you could write some sentences to describe what you wear when you visit different places. See below for some useful phrases.
Cuando voy a la playa, llevo ….
When I go to the beach, I wear …
Cuando voy de compras, llevo …
When I go shopping, I wear …
Cuando juego al tenis, llevo …
When I play tennis, I wear …
Cuando voy a una fiesta, llevo …
When I go to a party, I wear …
 I'd love to see your work. Email a copy to your teacher or to me ([email protected])
Hasta luego,
Señora Hayes x