¡Buenos días a todos!
¿Qué tal? Muy bien / regular/ fatal
I hope you managed to join in with the body parts songs last week. Have another go and don't forget to join in with the movements.
los pies – feet
las piernas – legs
las rodillas – knees
la cadera – hip
los hombros – shoulders
el cuello – neck
la lengua – tongue
los ojos – eyes
las manos – hands
Have a look at my silly monster. I'd like you to draw your own monster and then using my pictures to help you, can you label some of the body parts in Spanish? I am sure your teachers would love to see your creations so don't forget to send them a copy of your picture.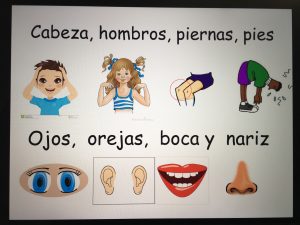 Hasta luego,
Señora Hayes x