Dear Reception parents, carers and children
Another week has come and gone and, hopefully, we are closer to returning to school.   I must say how wonderful it was to see so many faces and hear voices via Zoom on Thursday morning.  It really made my day!   I am feeling even more excited about meeting you all now.
I have continued to enjoy all the work and emails I have been receiving and I am endeavouring to put the photos into the Learning Gallery.
It's Not Easy Being a Bunny!
You may be wondering why I called this Blog, 'It's Not Easy Being a Bunny!'  When I first introduced myself, I mentioned that I love books.  Well, I have to tell you that I was very excited and pleased this week when a copy of one of my FAVOURITE BOOKS EVER arrived through the post.   Here it is;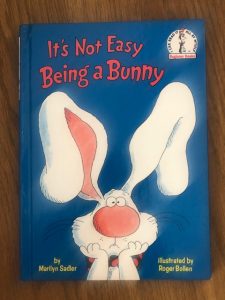 I have loved this story since the time when a pupil, who was struggling with reading,  in my very first class, picked it up and read it to me!  I will never forget the feeling of such joy and pride as he turned the pages and read.   It is a repetitive story with a reassuring message about accepting yourself for who you are.  I keep losing my copy of this book as it disappears into various classrooms, so I was very happy to receive a new copy this week.  I can't wait to read it to the children when we are in school.
Please also read Mrs Grimble's English Blog which contains some great links for reading books.  It also contains a link to a good picture book about Covid, which you may find useful to share with your child.
Lastly, I would like to leave you with a message from another 'bunny' book that I love.  I will let it speak for itself!
Take care everybody,
Love Mrs Menzies x