We are proud of our high standards of behaviour. Children work and behave in a calm way, which is essential for maximising their learning and for children to feel happy at school.
"Pupils show very positive attitudes to learning. They know what is expected of their learning and behaviour.".. Ofsted 2016
We strive to foster a sense of self-discipline within the school and an acceptance of the responsibility of individuals for their own actions.
Individual class rules are created at the beginning of the school year which everyone agrees will assist learning and create a happy classroom environment
Children's achievements are celebrated in special assemblies. Rewards include certificates, House points, praise and the opportunity to share their work with other staff and children. Considerate behaviour is also noticed at break and lunch times.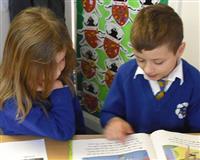 Everyone has the right to:
feel safe, cared for and respected
be able to learn to the best of his/her ability and to develop whatever skills he/she possesses
be treated equally irrespective of gender, race, physical characteristics or any other factors
learn and play without disruption.
Everyone is expected to:
be responsible for their own behaviour
respect the rights of others.
We say No to Bullying, whether verbal or physical; it has no place in our school. We ask for all parents and pupils to help us by reporting immediately any incidents so that we can deal firmly and fairly with any bullies, involving parents if appropriate.
Click here for our behaviour policy