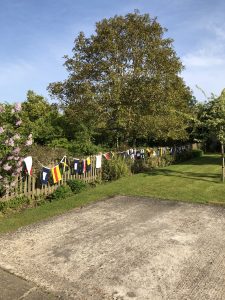 A special day of celebrations to commemorate the 75th anniversary of Victory in Europe.
So many people managed to mark the day in some way while keeping their distance at all times, of course.
Piers' father served in the navy during WW2 so all things naval are in his blood, I suppose! Our Nelson flags are hanging on our hedge and spell out a message, "England expects that every man will do his duty." This message was originally sent on the 21st October 1805 by Nelson to the British fleet just before the battle of Trafalgar. The sentiment remains poignant, I think.