Hi everyone!
It seems a long time since I've done a blog, and I realised that I forgot to upload a picture of Buzz on his Birthday!  So here it is … Buzz is 4 already!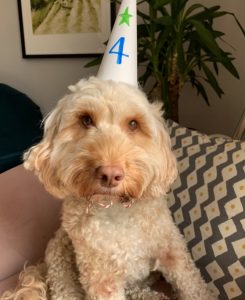 We spent some time over the half term week clearing a large section of our garden, and Buzz absolutely loved lying in all the dug up grasses, I guess they may have been nice and cool for him in all that lovely sunshine!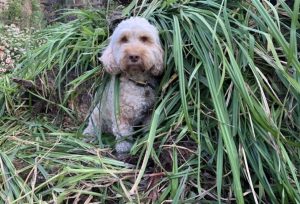 Do you remember the picture of Buzz sitting in all the pink flowers that had fallen from the rhododendron bush?  When we went back for a walk there the other day, some children had spelt their names out with the flowers, don't they look pretty?  Can you read what the little girl's name is?  I wonder if you could spell your name out of petals too … I am definitely going to have a go next week!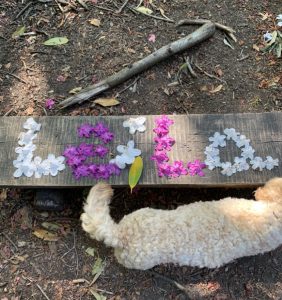 I hope you all have a lovely week and I'll be back with more pictures next week!  Love Jane and Buzz xx