Hello from me and Buzz!
Hasn't it been lovely weather?  Buzz seems to love the warm weather and for some strange reason, particularly likes lying in the bit of the garden that has gravel on it, my husband calls it the beach!  It doesn't look very comfy to me, he hasn't even got a towel to lie on!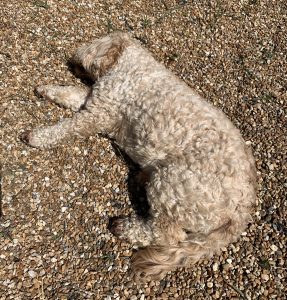 Every day is quite similar for us at the moment … Buzz and I always start the day with a walk, as I find this helps me get in the right frame of mind for the day.  My husband and son then walk Buzz again in the afternoon or evening … he's never had so many good walks before!  I was very pleased this week to find the rhododendron bush had shed it's leaves, and the beautiful pink carpet was back.  I can't resist taking the same picture every year, and here it is!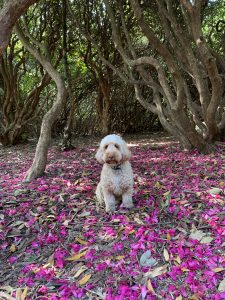 I hope you are all ok and Buzz and I both look forward to seeing you again as soon as we can!
Have any of you got any photos you'd like to see?  Please let me know in the comments below and I'll see what I can do!
Speak soon love Jane (Smith) and Buzz xx