Good Morning Year 1,
We have come to the end of Term 5 and it is now time to put your school work away and enjoy the sunshine! I think every single one of you have done an amazing job with home learning and have been very grown up and mature with your work! You are definitely almost ready for Year 2.
I've had some lovely photos this week; here are some examples and remember to look at the gallery for other photos too.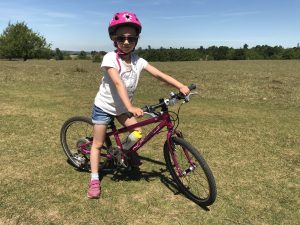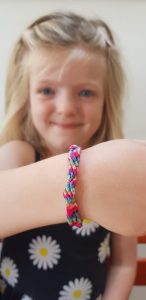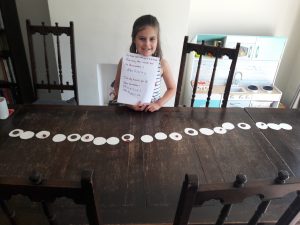 It was lovely to see so many of you again on our zoom call yesterday, I really enjoyed hearing about your favourite book. I hope you all enjoyed it too!
Lots of love, Miss Giles
Hi Year 1!
I hope you are all well and enjoying the sunshine! It's been so lovely seeing you all in our zoom chats!  I've loved hearing what you've been up to and seeing your smiley faces!
I've also really enjoyed looking at your wonderful work in the gallery , I'm amazed at how creative and artistic you all are! (Frederique's  hot air balloon , Harrison's art work , Hannah's scarecrow!) Henry and Louis's writing has really improved, so neat! Max H did a fantastic story, Erskine learnt to play chess( perhaps you could teach me?!) I really enjoyed the lego movie by Rory and Martha's marble run and all of Zach's exciting activities!! I can't fit you all in but I am so Impressed with how hard you are working and the wonderful things you've created or tried out for the very first time. I'm really looking forward to some seeing your shark Pictures or pictures from your favourite books.
Well we have been busy in our house too with lots of school work for Phoebe and my son is doing important exams for university. We celebrated VE Day with tea and cakes in our close with the neighbours, listening to wartime music. I put a photo of my Nan and Grandad out as they were both in the war. I even dressed up!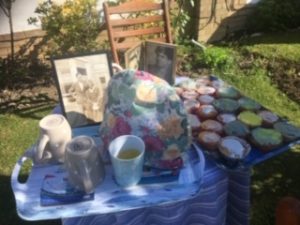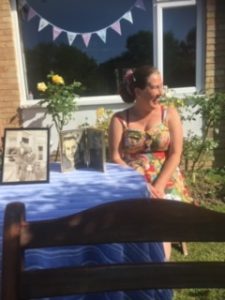 I've enjoyed reading stories for you to listen to and I've finished painting my garden fence , which I didn't enjoy so much!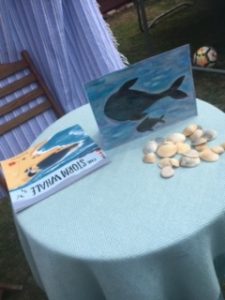 We have had two lock down birthdays last week , mine and my daughter Phoebes who turned 12. It's my other daughter's birthday tomorrow so we will have more cake!!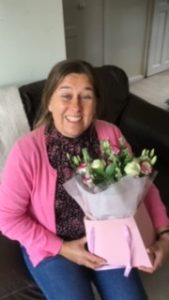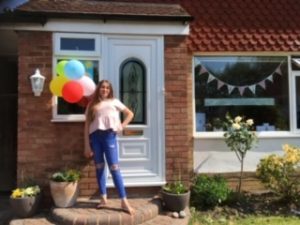 A couple of weeks ago my dog was  very poorly and spent 3 days in the vet he had lots of different medicines but is so much better now! I thought you'd like to see some photos of him!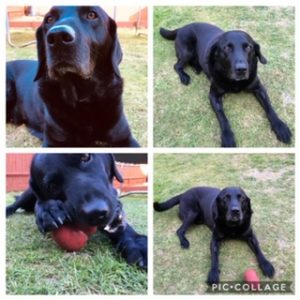 I hope you all have a lovely half term and a relax and hope the sun continues to shine.lots of love
Mrs Thompson xxx
Hello year 1, It was lovely to see your smiling faces and hear about your favourite books yesterday. I hope your enjoying the sunshine and maybe a few ice creams! We're lucky to have a stream at the stables which we've enjoyed playing in this week. It's helped to keep us cool. Enjoy half term and I will hopefully see you all soon.
Miss Howe