Hello everyone!  I do hope you managed to enjoy some of the sunshine over the Easter holidays, although I know that can be very difficult at the moment.  Buzz and I are lucky enough to live in a village, so it's easy for us to go out on our daily walk and not see another person, although Buzz is very excited when he hears children and other dogs!  We were very pleased to find some bluebells and daffodils.  Have any of you been able to see any bluebells?  Not only do they look pretty but they smell wonderful too.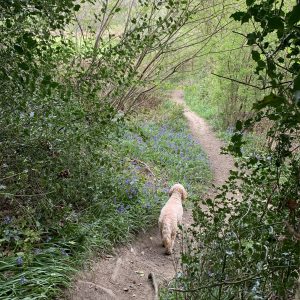 One problem that I am having is that Buzz normally has a haircut every 5 weeks, and dog groomers are not allowed to work at the moment.  He is getting hairier and hairier and more and more difficult to groom!  The lady that normally grooms him gave me some tips and suggested I trim his feet … unfortunately, that was not as easy as it sounded, so here is a picture of his paws, one very shaggy and one not at all, I think I need to keep practising!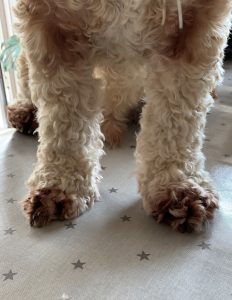 Lastly, I said last time that I would include a picture of my 2 cats, Dolly and Arthur.  Dolly is the little grey one, and Arthur is her son.  Buzz would like to play with them, but they do not think that is a good idea at all!  Sometimes they all sleep with each other, and occasionally groom each other … I do wish the cats could help me look after Buzz's knotty fur!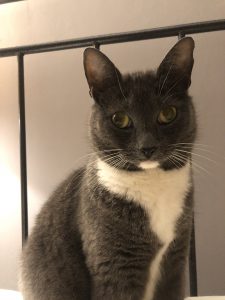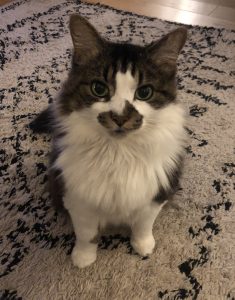 I do hope you are all ok, and Buzz and I look forward very much to seeing you again as soon as school is able to open, as we both miss you very much!