Hi everybody!  I have just realised that my blog last week isn't there?  I can only assume I didn't press the all important PUBLISH button, silly me.  Oh well, today is another day!
We've had mostly lovely weather again haven't we?  This lovely weather is making my life with a very hairy dog so much easier.  I can't even bear to imagine how much mud would be sticking to his hairy legs … anyway, in case you are forgetting what Buzz looks like, here is a picture of him!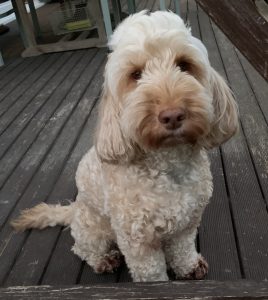 Actually, I think he's hairier that this now, but the good news is tomorrow he's getting a haircut yippee!  Make sure you come back next week for a look at Buzz with a new haircut.
Something lovely happened yesterday.  Buzz got to see my daughter Lucy for the first time in 8 weeks!  He was nearly as excited as me.  Here's a picture of them having a celebratory hug!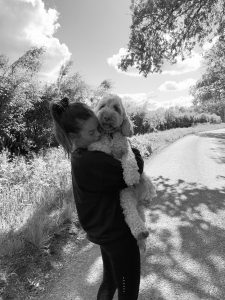 Last week I shared with you a funny picture, and as my blog didn't work, I'm going to post it again as it made me laugh, and it's good to laugh isn't it?  Here's a picture of Buzz looking like he has long, fake eyelashes … who do you think he looks like?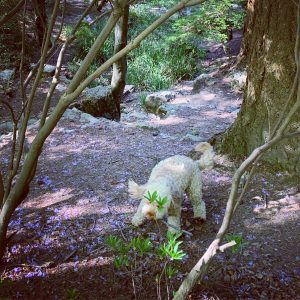 Right I'll be back with more pictures for you next week, and I do hope you all have a good week and can enjoy a bit of the sunshine most days.  It certainly cheers me up getting outside!  Just imagine how excited Buzz is going to be next time he gets to see YOU again?!  I can't wait!  Remember to leave me a comment if there are any pictures in particular you'd like to see.  Buzz and I both miss you very much love Jane xx