We have had all sorts of drama and excitement in our fairy tale cottage this term! Anyone that thought that fairy tale's might be dull or boring have been proved wrong! It all began one chilly Monday morning when the children came in to find our role play cottage had been ransacked!! There were broken chairs and tea cups and porridge all over the floor! Thank goodness some keen eyed Reception children spotted the footprints in the porridge which was a vital clue.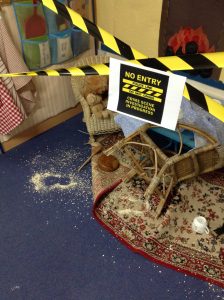 We had lots of wonderful discussions about who might have done it and why, before writing lists of what things we needed to help our investigation. I particularly liked the idea of getting police sniffer dogs in to explore the crime scene! After a few days a very apologetic letter arrived in class from Goldilocks, and order was restored. In traditional style, the bears went back to sipping cups of tea from their china cups and all was forgiven!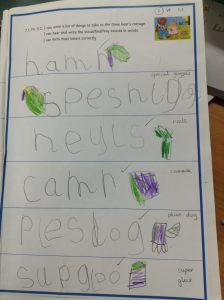 In other news we designed and made new chairs and beds for the bears to replace what Goldilocks had broken, using a range of resources from Lego to recycling materials. The comfort of the bears has really been thought about here with this bed even having arm rests!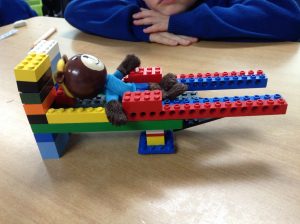 This term we have already covered a number of fairy tales from 'The three little pigs' to 'Rapunzel' and it has been wonderful to see how many of the children have been able to use and retell these stories in their play. These traditional tales will hopefully now be securely cemented in their bank of stories so they can draw on the language and ideas as they become imaginative writers.