¡Buenos días a todos!
¿Cómo estás hoy?
Muchas gracias to Jessica for her lovely clothes designs. I love her 'Arco iris' theme.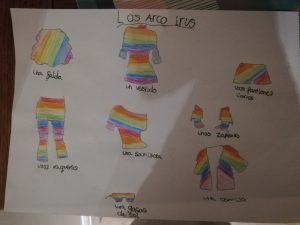 Today I have an explorers quiz for you.
Use the internet to find the location of the following famous places in Spain. (Hint: the first one is where Year 6 went in February!)
La Plaza de España – a semi-circle square!
La Sagrada Familia – a very big unfinished church
La Alhambra – a beautiful Arabic palace and fortress
La Mezquita – an impressive Mosque-Cathedral
El museo de Prado – an art museum
Can you work out what these famous Spanish people are famous for?
Rafael Nadal
Pablo Picasso
Hernando Cortes
Sergio Ramos
Antonio Gaudí
¡Buena Suerte! Good luck!
Scroll down for las respuestas (the answers)
Hasta luego
Señora Hayes x
Seville
Barcelona
Granada
Cordoba
Madrid
Tennis player
Artist
A 16th century explorer and conqueror
Football player
Architect