I know from talking to many parents that concerns about their children's progress in literacy often stem from their own, or their partner's, struggles with dyslexia (with or without a diagnosis).
Recent research by Margaret Malpas from the British Dyslexia Association (BDA) has sought to identify characteristics which are helpful to adults with dyslexia and other specific learning difficulties. She wanted to find out why, despite their struggles with literacy, so many adults with dyslexia are particularly successful across a range of careers. Her research shows that 67% of dyslexic adults surveyed believed they had special strengths resulting from their dyslexia, the top one being determination. Other skills that featured highly included empathy, intelligence or a particular ability and motivation to help others. A full account can be found in Malpas's book 'Self Fulfilment with Dyslexia: A Blueprint to Success.' If you are still struggling with literacy and would like help to imp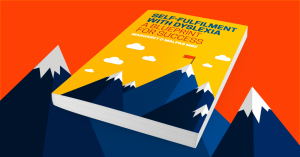 rove your skills, the BDA has recently launched a new elearning programme for adults which is priced at £12.99 for 10 modules. Information on both publications can be found on the BDA website.
Highlighting the positives of dyslexia is the theme for this year's Dyslexia Awareness Week running from 2nd to 8th October.