"The school, through it's distinctive Christian character, is outstanding at meeting the needs of all learners… St John's is a very happy community where pupils and adults alike enjoy working. This leads to high attendance, above average attainment and very good progress from pupils"

SIAMS inspection April 2017
"… there is a strong culture of nurturing and support, combined with high expectations."
Ofsted 2016
Mission Statement
"Our School is one where individuals will be helped to strive to reach their full potential, feel valued and where personal endeavor, responsibility and good behavior to others will be encouraged in a Christian environment".
Our Religious Education policy
Our Ethos and Values
St John's Church of England Primary School is committed to educational excellence and to the spiritual, moral and cultural development of all its pupils.
The School recognises and affirms its Church of England foundation and greatly values its special, historic and continuing link with the parish church of St John the Baptist Church.
As a 'Controlled' Church of England school, St John's enjoys close links with the local church.
"The impact of collective worship on the school community is outstanding"

SIAMS inspection April 2017
The content of our worship is based on teaching children about the Christian faith and values as revealed in the Bible. Kindness and tolerance towards others are encouraged and healthy self-esteem, discipline and initiative are also fostered. There are opportunities to learn, sing and pray together as well as time for quiet contemplation.
Class assemblies, celebrations of the main Christian festivals and special services to mark the end of the school year all contribute to our community life. The school worships every day.
Click here to visit St John's Church
We recognise that our children, parents and staff come from a wide variety of backgrounds with differing views on faith and commitment and our worship is sensitive to this issue. The context of our worship is Christian because we are a Church of England School. However, assemblies are organised so that everyone can participate in a way that makes sense to them.
The rights of parents to withdraw their children from acts of worship and religious education are respected.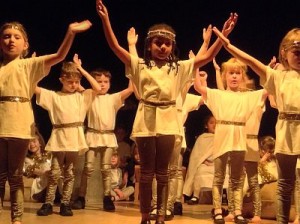 "Diversity is celebrated and all members of the community are equally valued, cared for and supported."
Ofsted 2016
"Pupils are highly sensitive and considerate towards the beliefs and needs of others"
SIAMS inspection April 2017
Our ethos and values have an impact on:
The Children
We aim to create a happy, secure and caring environment which encourages children to be self-confident and to recognise:
The individual worth of each child
The need to provide equal opportunities for everyone
The importance of helping each child attain his/her full potential
The value of self-respect, self-discipline and self-confidence
In teaching and learning we aim to provide a curriculum that ensures balance, depth and relevance to each and every child, not least those with special needs. We aim to:
Promote the development of children's learning
Have high, but realistic expectations of our pupils' achievements
Provide a structured but stimulating learning environment
Encourage and foster teaching staff development and professionalism
 
The Community

We recognise our position within our town and the community beyond and we aim to:
Develop in our pupils a respect and tolerance for others, regardless of background
Create a respect for the environment
Help children to have a sense of belonging to the School and the wider community by encouraging them to be courteous and self-disciplined
Encourage members of the community to contribute to the extra-curricular activities of the School and to contribute their time and skills, where appropriate