As the Black Lives Matter movement gains momentum around the world and we all consider how best to create change we, at St John's, believe that one place to begin is for our children to read books written by diverse voices, representing diverse experiences.  Our children need to see themselves in the books they read but also to see into the lives of others to help them understand the world and their place in it.
A project that we are currently working on at St John's is to ensure a more ethnically diverse literature provision for our children as well as a broadening and deepening of their understanding of diversity across all curriculum areas.
As a first step, we have introduced a series of picture books across all age groups to consider the topic of racial diversity, understanding and tolerance.  As part of our research into the best books to share with the children we have compiled a list of websites (see below) that we hope you will also find useful when choosing books to share with your children at home.  
The three display boards below show some of our work on diversity since Easter.  The first is from our Years 3 and 4 classes, based on the book, 'The Proudest Blue' by Ibtihaj Muhammad.  The second is from Year 6, who really enjoyed learning about Windrush in their post-war history topic.  Finally, the third is from our Year 5 and Year 6 classes, who shared the powerful and beautifully illustrated book 'The Undefeated' by Kwame Alexander.  Their considered and mature reflections on these new areas of learning have been wonderful.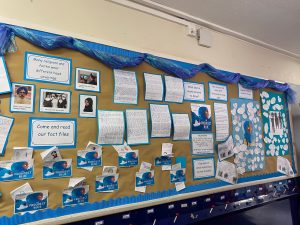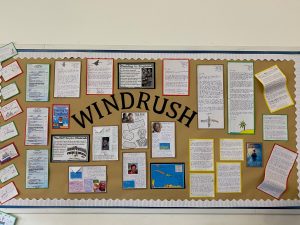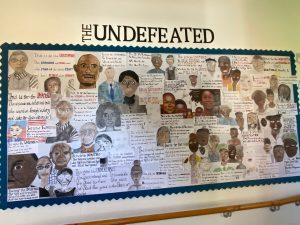 Useful Websites
https://www.lovereading4kids.co.uk/blog/collections/diverse-voices-childrens-books-that-celebrate-difference-6090
https://www.booksfortopics.com/bame-characters
https://peters.co.uk/bame-reads-for-primary-schools
https://www.theschoolrun.com/best-childrens-books-by-bame-authors
https://www.penguin.co.uk/articles/children/2019/jun/childrens-books-with-black-characters.html
https://clpe.org.uk/library-and-resources/booklists/black-history-booklist
https://rhubarbandwren.co.uk/best-diverse-childrens-picture-books-bame-boy-main-character/
http://booksforkeeps.co.uk/issue/234/childrens-books/articles/ten-of-the-best-books-starring-children-from-bame-backgrounds