Happy Friday everyone!
I've got an exciting update on the caterpillar front. Can you guess what's happened? After those tiny little wriggling creatures arrived, all they have done in munch their way through the food in the pot! They kept growing and then shedding their skin, then growing more and then this week they started to crawl up to the top of the pot and then looked like they were dangling down. Then the most amazing thing happened, I came down on Thursday morning and they had shed their skin for the last time and looked like this!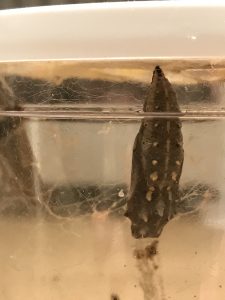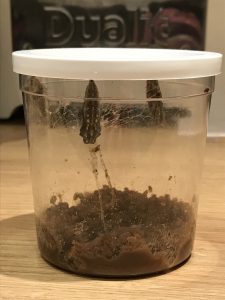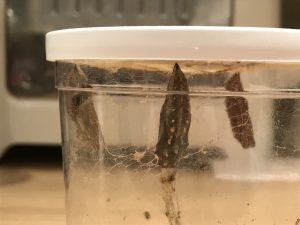 I wonder if anyone knows what these are now called or why they change like this? Let me know if you do. Who knows what might happen next?
It has been fantastic to see so many wonderful examples of the work you have been getting up this week. You are doing a brilliant job! I am only sharing a couple of photos on today's blog as hopefully you will soon be able to see the amazing new galleries on the St.John's homepage where we can proudly exhibit all the amazing pieces of artwork, writing, maths etc. that you have been busy creating at home. What wonderful children St.John's are lucky enough to have!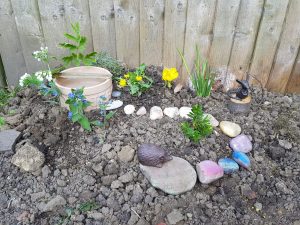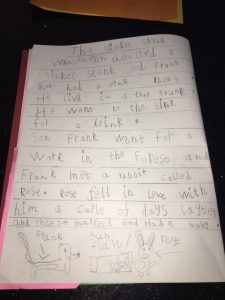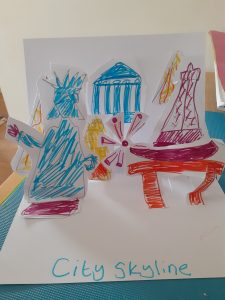 I wanted to share these pictures of Iris' fairy garden, Jemima's story and Seb's city skyline because all three of these brilliant creations were extra ideas! These weren't specifically on the daily plan of Reception tasks. They were opportunities that arose naturally from the children's interests and their parents went with it and they are all wonderful! I know I've mentioned it before but I just want to reassure you again that this is a brilliant way for children to learn! I will be writing my Monday blog about this idea of using your children's interests as a learning tool so stay tuned for more ideas, but for now I just want to finish up by praising you all for coping so incredibly with the current situation. So many of you juggling working and teaching your little ones at home are amazing! The grateful and supportive emails I have received have been incredibly uplifting and it is times like this that you really see how much good there is around!
Have as lovely a weekend as you can everyone, stay safe and see you (or speak to you at least) on Monday!
Love from Mrs. Canniford and some not so wriggly caterpillars! x