¡Buenos días!
¿Qué tal?
I have recently been watching Race Across the World on BBC with my children. 5 couples compete in a race across Central and South America. We found it really interesting because we got to see a variety of Spanish speaking countries as t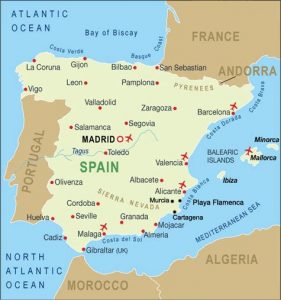 he couples race to each checkpoint.
This week I have made for you a virtual mystery tour of Spain. Print off the map, read the clues below and work out my mystery route across Spain. There are two points for each clue, one for the name of the town and one for the extra information. 16 points total.
¡Buena suerte! – Good luck!
You arrive in Spain in una ciudad (a town) with an aeropuerto (airport). La ciudad is the birthplace for a famous artista called Picasso. You visit the Museo Picasso. What town are you in? How much does it cost to visit the Museo?
Your next stop is una ciudad nearby with a beautiful Palacio antiguo (old palace) called Alhambra. What town are you in? When was the Alhambra built?
La tercera ciudad (the third town) is not far from Seville and is the home of a famous Mezquita-Catedral (Mosque-Cathedral). Where are you? How many columns are in the Mezquita?
Now you are heading to una ciudad that used to be the capital of España. Where are you? When did this town stop being the capital?
Head to la costa (the coast) to una ciudad which has a crazy fiesta (festival) called Las Fallas. Groups of designers in different neighbourhoods spend months creating huge puppets which are paraded through the streets and in the evenings they are set on fire! Where are you and in which month does the fiesta take place?
Your next place to visit has a very famous football club and estadio (stadium) called Camp Nou. Where are you? What year was Camp Nou opened?
Your penultimate ciudad is in the north of España and is famous for a very dangerous fiesta called San Fermin or Running of the Bulls festival where very crazy people run a course through the streets being chased by bulls! Where are you? When does San Fermin take place?
Your final ciudad to end the mystery tour is home to the Aquarium Finisterrae. The aquarium has over 50 different species swimming around you as you walk through the tunnel of the main tank. Where are you and what is the Spanish word for fish?
Hope you enjoyed your mystery tour!
Hasta la semana que viene (until next week).
Señora Hayes x
Scroll down for the respuestas (answers)
Malaga / Collection fee 9/7 euros
Granada / 1238
Cordoba / 856 columns
Toledo / 1560
Valencia / March 15-19
Barcelona / 1957
Pamplona / July 6-14
La Coruna / un pez or peces (pescado is the fish we eat!)