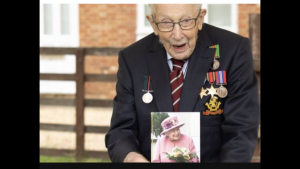 Today is the 100th birthday of this remarkable man. I've just watched the recording of Captain (or Colonel) Tom watching the RAF fly past in his honour. Do try to watch if you can and I would be surprised if you're not moved to tears by the effort and humility of the man and the praise and love of a nation.
When being congratulated on his phenomenal achievement of raising 31 million pounds for the NHS this fine gentleman said the following:
"Reaching 100 is quite something. Reaching it with such interest in me and huge generosity from the public is overwhelming.
People keep saying what I've done is remarkable however it's actually what you have done for me that's remarkable.
Please always remember, tomorrow will be a good day."
Happy hundredth birthday and thank you  CaptainTom Moore for being a true inspiration to us all.