Good Morning Year 1! 
I hope that you are all well and have enjoyed the sunshine over the Easter break. As I am sure you are all aware from Mrs Quirk's parent-mail, I will be continuing to teach Year 1 until June which I am very pleased about! 
I have enjoyed being able to spend time outside in my garden reading over the past few weeks, in the beautiful sunshine we have had, I have started to re read my favourite book from when I was a child; The Magic Faraway Tree. Have any of you been able to get outside to do your reading? Have you re read one of your favourite books? Maybe you could even make a reading den in your garden, or in the house, to do your reading?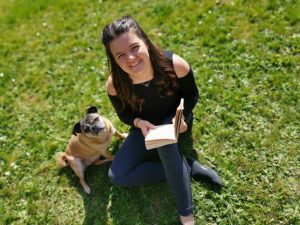 Ty and I had a lovely Easter weekend; we even had an Easter egg hunt on Sunday! We wrote lots of clues for each other and then spent the morning using the clues to help us search for our egg. I hope you all had a wonderful Easter weekend too; did you have an Easter egg hunt? I would love to hear about your Easter! 
You will be receiving daily emails every morning regarding the work that is set for that day, stay safe, have fun and and I look forward to the new term ahead! 
Lots of Love,
Miss Giles, Daisy, Ralph and Luna x