Year 1 were thrilled to come to school on Friday 6th November wearing their pyjamas. They were very surprised to see the staff also in our cosy clothes!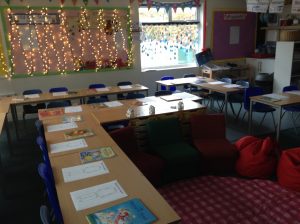 We started our day designing a new set of pyjamas, taking inspiration from the colourful patterns our friends were wearing, and reading a selection of books. Then, we listened to the story There's No Such Thing as Monsters being read, while the virtual fire crackled and fairy lights twinkled in the background. We enjoyed acting out the exciting parts. The bears were scared as they thought there were monsters in the dark, but it was just the shadows tricking them!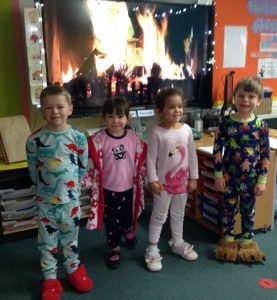 We have been working really hard to use adjectives in our writing. The previous day, we had been finding out about the history of Bonfire Night. For our Pyjama Day writing activity, we listened to a story all about a fireworks party and made mind maps of all the exciting adjective descriptions we could come up with using our senses.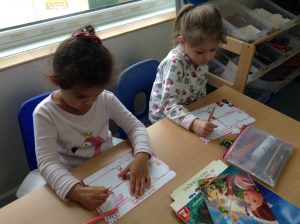 We took turns throughout the day to sit in our special 'story space': with comfy chairs, bean bags and blankets to snuggle up in. We worked in smaller groups to apply our phonics in guided reading sessions. Each group cosied up in their dressing gowns and listened to a grown-up read the story, before hunting for the tricky words and finding our chosen graphemes.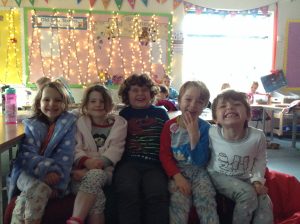 After lunch, we read Elmer. Elmer worried that the other elephants were laughing at him for being different. Elmer decided to paint himself grey in order to blend in. In the end, Elmer realised how special he already was. We talked about how this fits our school ethos: we are all different, and all equal. To celebrate how beautiful being different is, we made a giant class Elmer! The children made their own patterns on different sized coloured sheets and together we made a giant Elmer collage. It didn't matter that each person's drawing was different: it made our Elmer even more interesting and special.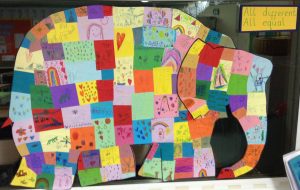 Year 1 have a real love of stories and had so much fun on Pyjama Day – lots of children asked if we were having a sleepover at school! We hope you continue loving stories.