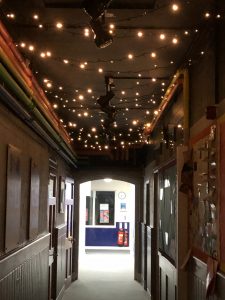 How lucky we've been that Mr Shrubb has been so busy with lighting up our school! In a year when we're all having to be careful and do without many of our special Christmas activities having some sparkle has really helped our mood.
Our KS1 nativity is finished! Last Wednesday the children jumped and out of costumes, sang, danced and delivered their lines beautifully. We filmed inside and out, in freezing temperatures with the feeling "the show must go on" The film was created last weekend and will be made available to you on Google Classroom by Thursday afternoon.
Meanwhile KS2 have had their class songs recorded, pupils have read the lessons and we have again filmed this fir you to enjoy at home.
Many thanks to all the staff for all their hard work in producing these lovely memories of St John's Christmas 2020.
Tomorrow there's all the fun of Christmas lunch and Class Fairs and films.
We are all quite tired as we're sure you are too. It really has been the strangest of terms. Thank you parents and carers for your thoughtful support and your kind words of encouragement. We are so grateful to have such a wonderful school community; it makes our job so much easier.
Thanks also the this amazing team. From office to classroom to lunchtimes and whether from home, by zoom or face to face – all of you have done a fantastic job and are just great and are  never more deserving of a break and rest this holiday.
Happy Christmas Everyone. Year 1's display reminds us of the wonderful Christmas story.