Yoga for kids!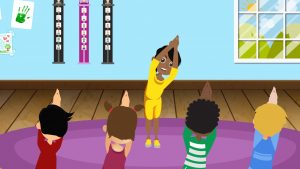 As we all look for different ways to exercise in lockdown, you may have been practising yoga, but have you suggested your children join in too? I know a few of you have already introduced your children to yoga with great success.
Yoga for children can bring similar benefits as for adults, such as increasing flexibility, muscle strength and tone, but a recent study, published on the NHS evidence website, showed that yoga can also help reduce symptoms of anxiety and depression in children.
You can download three yoga sessions devised for young children from pre-school to age 11, although they are more suitable for the younger age groups, at https://www.yogaatschool.org.uk/your-free-video-and-game-resources. These videos were originally devised for children on the autistic spectrum but can be used just as well with non-autistic (neurotypical) children. You will need a small umbrella, a pole (such as a broom handle) and the posture cards which I have attached to this blog, although you could improvise with these.
There are many other examples of yoga for kids on Youtube so why not have a look and see which one would suit your family best?