Say this rhyme and clap your hands in time to the heartbeat.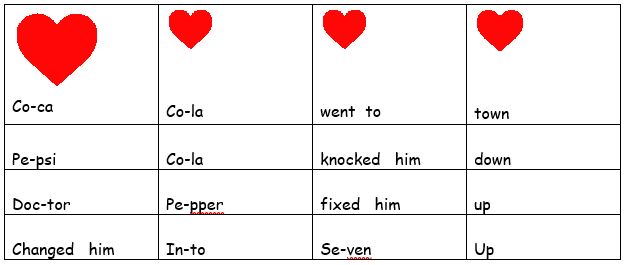 -Why are there heartbeats at the top of the chart?
-Why is the chart divided up as it is?
-How many beats are in each line of the rhyme?
-Does each line have the same number of beats?
…………………………………………………………….
With a member of your family, stand face to face, and perform the following actions while saying the rhyme:
There are 4 actions corresponding to the 4 beats in every phrase:
Clap own hands, clap partner's hands, clap own hands, pat knees.
………………………………………………………..
How are you getting on with Dublin Dan and St Louis Blues?
Hopefully well. Here are the performance tracks (up to speed), if you would like to have a go.
St Louis Blues:
Dublin Dan:
There are also words for Dublin Dan, you could try singing along with the backing track as well as playing your recorder:
I went across the sea to Ireland,
I went to stay with Dublin Dan
We had potatoes for our dinner,
Bread and butter pudding and a lump of jam.
We had pizza for our supper,
Pepperoni, cheese and ham,
What do you think we had for breakfast?
Bread and butter pudding and a lump of jam!
…………………………………………………………………
If you would like a new challenge, here is Shrimp Island, a relaxed sort of piece.
Have fun and let me know how you get on.